HAA Speakers Bureau Program
The Harvard Clubs of the Southeast and Coastal Georgia Present:
Michael Brenner on "Science & Cooking"
Please join us Monday, June 13th, at 6pm for an online discussion with Michael Brenner, Michael F. Cronin Professor of Applied Mathematics and Applied Physics and Professor of Physics at Harvard College, as he discusses a longtime favorite topic: "Science & Cooking".
---
Michael Brenner: As Interviewed by Harvard Magazine
MICHAEL BRENNER designed the popular General Education course "Science and Cooking" on successive nights between 11 P.M. and 3 A.M., after a lecture by Spanish chef Ferran Adrià moved him to teach science through physical transformations in food. "I decided this was the best possible way to teach physics to people with no desire to learn it," he says. Now, in class and online, he's "taught cooking to more than 100,000 people, which is sort of ridiculous."
The professor of applied mathematics and applied physics grew up in the middle of Florida, where, he reports, "All there was were tennis courts, and all I did was play tennis." At Penn, he traded tennis for a new obsession, physics, of which he knew nothing. Today, he laments, many Harvard students arrive so prepared that those with little background feel studying the sciences is impossible: "I couldn't have been an applied math major here. I would've gotten scared."
With a Ph.D. from the University of Chicago, he joined MIT's math department. "I still don't know anything," he asserts, "but at the time I really didn't know anything." Not knowing meant he could work on any problem he wanted, with anyone. He moved to Harvard's School of Engineering and Applied Sciences because "this place was sufficiently interdisciplinary…so nobody knew what they were." He resists defining the kind of research that interests him, suggesting instead that he uses math to answer "lots of different questions": what happens when a water droplet splashes, or how bird beaks develop.
Brenner's Pierce Hall office doesn't have a desk, making a visitor wonder how he gets his work done. "Why, is that bad?" he asks nervously. "Everything's too fancy at Harvard. I decided it was better to just make my office into a living room."
---
The Book
Based on the popular Harvard University course, Science and Cooking explores the scientific basis of why recipes work.
The spectacular culinary creations of modern cuisine are the stuff of countless articles and social media feeds. But to a scientist they are also perfect pedagogical explorations into t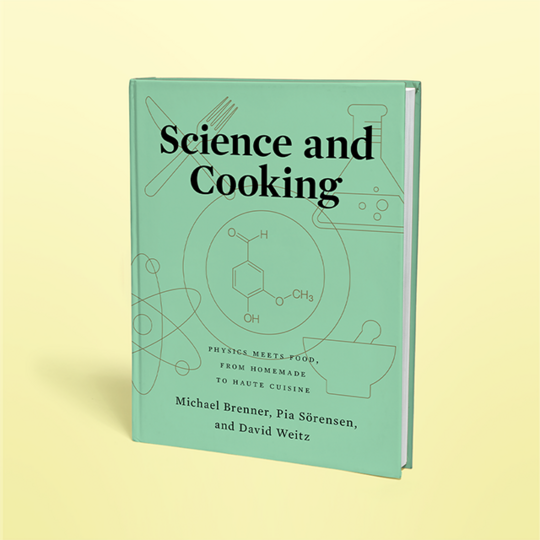 he basic scientific principles of cooking. In Science and Cooking, Harvard professors Michael Brenner, Pia Sörensen, and David Weitz bring the classroom to your kitchen to teach the physics and chemistry underlying every recipe.
Why do we knead bread? What determines the temperature at which we cook a steak, or the amount of time our chocolate chip cookies spend in the oven? Science and Cooking answers these questions and more through hands-on experiments and recipes from renowned chefs such as Christina Tosi, Joanne Chang, and Wylie Dufresne. With engaging introductions from revolutionary chefs and collaborators Ferran Adria and José Andrés, Science and Cooking will change the way you approach both subjects―in your kitchen and beyond.
---
The Harvard College Course
The Harvard John A. Paulson School of Engineering and Applied Sciences (SEAS) and the Alícia Foundation developed the General Education science course, "Science and Cooking: From Haute Cuisine to the Science of Soft Matter," which debuted in the fall of 2010. The course uses food and cooking to explicate fundamental principles in applied physics and engineering. (Watch a video about the course.)
---
The Instagram Feed
---

EVENT DETAILS:
What: Professor Michael Brenner on the topic of "Science and Cooking"
When: Monday, June 13th, 2022 at 6pm
Where: Online Zoom Discussion
Tickets: Tickets are free for HCRT Members, but registration by Sunday, June 12th is required. (Please check back- registration available soon!!)