Durham Downtown Tasting Tour
Please join us for a fun and delicious afternoon as we visit 6 different establishments in the wonderful Durham food scene. This is a great opportunity to visit some amazing restaurants and bars... and we might even get to meet some of the chefs.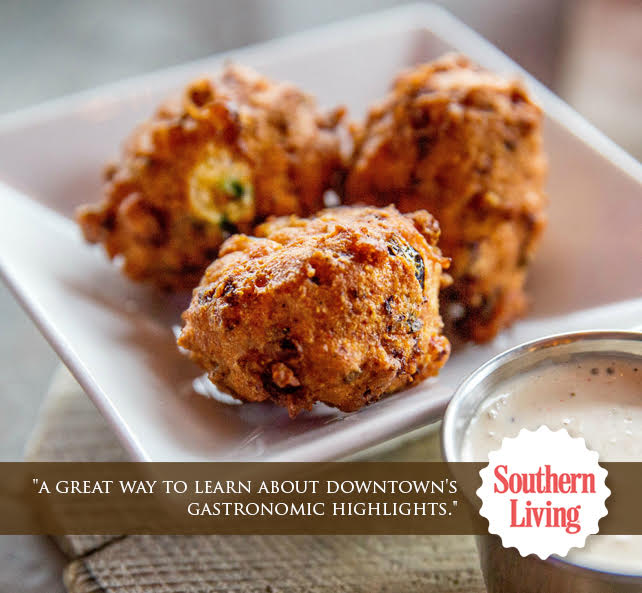 Register in advance at the link above. Space is limited.

Home to renovated tobacco warehouses, the Durham Performing Arts Center, the Durham Bulls, and Historic Parrish Street, downtown Durham is about cutting edge culture and fantastic food. With a farm-to-table focus and artisan preparation of innovative cuisine, you will discover all of Durham's flavors on this guided Taste Carolina tour! The event includes food and drink tastings at several different restaurants and craft cocktails bars. Along the way, a tour guide will chat about history, architecture, food, and culture.
When: Saturday June 17 2023 at 3:00PM ET
Where: Meet at the Durham Visitors' Center, 212 W. Main Street. Please arrive 15 minutes prior to tour time.
Tickets: Members-only event - $65.
Additional information:
1.)Please dress for the weather and for walking. Wear comfortable shoes as we will be walking to the various locations (2-3 miles). Tour happens rain or shine. List your dietary restrictions and food allergies when you register. For more information about Taste Carolina, visit tastecarolina.com.
2) Park in the deck at 101 E. Corcoran, at the corner of Main and Corcoran, or at the American Tobacco Warehouse in the North Deck. Parking along the street is timed on weekends with one to two hours max, so will not be available.
3) 21+ attendees only are recommended
When:
3:00PM - 10:00PM Sat 17 Jun 2023, Eastern timezone

Where:
Durham Visitor's Center
212 W.Main St
Durham, NC 27701
[ Get Directions ]
Enter Waitlist Here...