HCRT Bike Club Event: Bike RACE- Cup and cone tour
The HCRT invites you to join them for their first event of the year: Cup and Cone Tour in Cary on Saturday June 24th
The Bi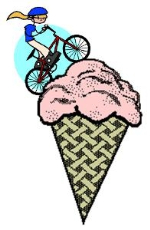 ke Club had finalized it's first event of the year. We'd love for you to join us for this event in Cary--all skill levels welcome!!
The Cup and Cone tour offers a choice of 2 routes/rides: a 25-mile and a 50-mile ride. The 25 mile has one rest stop and 50 mile has 2 rest stops. Maps available here.
Registration fees go up at the end of the month, so do it now before it sells out. Please register directly on the event's Team website, REGISTER HERE, and join the HCRT Team
---
---
Event Details
Topic: HCRT Bike Race @ Cup and Cone Tour
Date: Saturday June 24, 2023 6.30am
Where: Panther Creek High School, Cary
Registration: $45. Please register here
Requirements: A bike. A helmet. You! The ride will be appropriate for a variety of skill levels.